Artificial intelligence in healthcare is the use of complex algorithms or, in other words, artificial intelligence (AI) to mimic human science in the analysis, interpretation and understanding of complex medical and health data. Specifically, artificial intelligence is the ability of computer algorithms to approach results without direct human input [1]. The main purpose of health-related AI applications is to analyze the relationships between prevention or treatment techniques and patient outcomes [2]. As you know, today, when it comes to health, the use of technology has been inevitable. Let's talk about it a little bit with you today.
In addition, hospitals are looking for artificial intelligence software to support operational initiatives that increase cost savings and patient satisfaction and meet staff and workforce needs [3]. As a result of artificial intelligence applications used in the health sector today, patient bed capacity and examination time have been optimized and reduced to a minimum.
Long-term audits with artificial intelligence are carried out with a minimum period of time. As in many health applications with the use of the CAD systems, assisting physicians in the decision-making process is one of the main goals. Although I am a computer engineer, the applications I have implemented before often also touch health care. For example, let me introduce you to FaCiPa. In my project called FaCiPa: Facial Paralysis – early diagnosis of facial paralysis, which I put into practice as my undergraduate thesis '' early diagnosis saves lives!' I think I'm on the front foot for many patients with the slogan [4]. And do you know why facial paralysis? Because as an individual with this disease, I have painfully learned what early treatment means. As a programmer, I have developed an application for pre-diagnosis of my disease, and with it I have received very good returns and awards from many project markets and R & D competitions.
What is FaCiPa ?
I wanted to give a name consisting of certain letters in English in order to be universal for this disease, which is referred to as facial paralysis (Facial Paralysis) among the medical terms in the literature.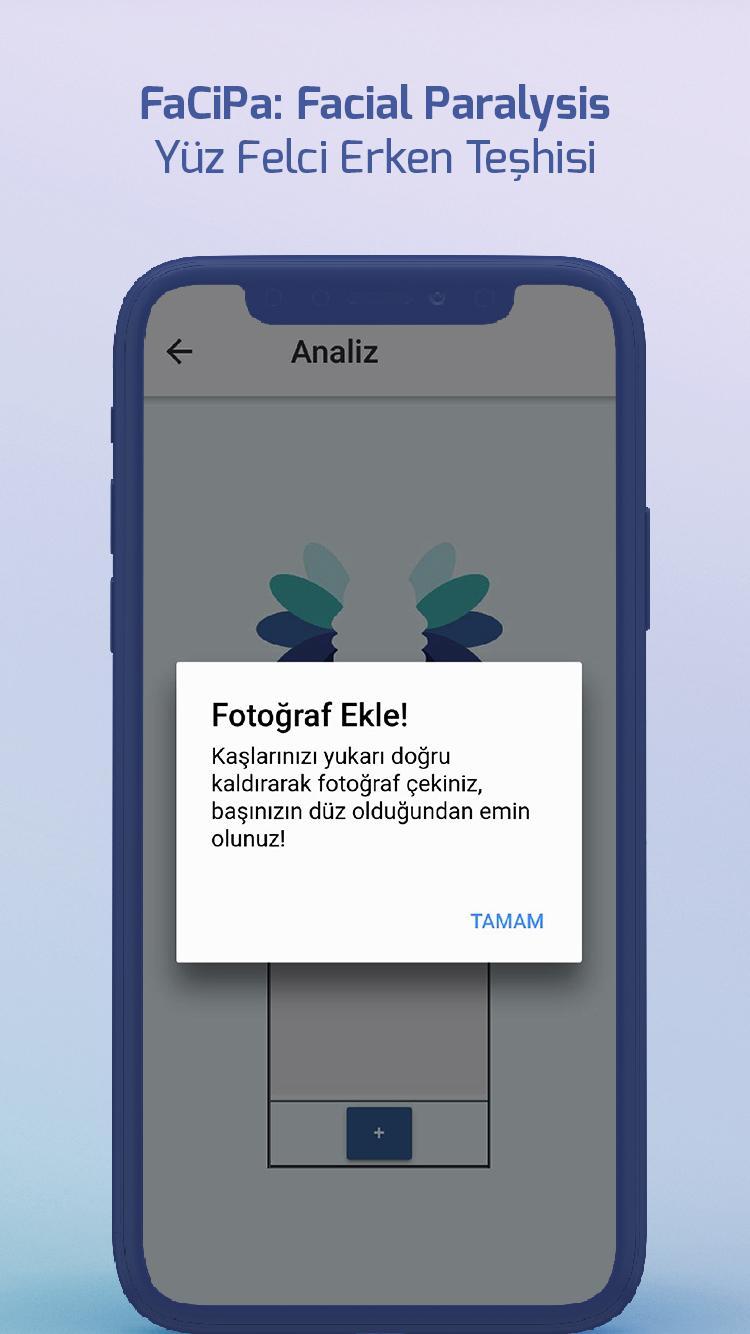 This application is the Turkish language supported application. As I have the opportunity to meet with many people who have had strokes and specialist doctors while promoting the project, I would like to inform you that health is ahead of everything in this life, and I would like to continue my writing.
For your review, I'll leave the visuals of the first version of our project to the side. You can find a brief introduction to our project in our interview, which we conducted during the TET R & D Project Market process, receiving a special incubation award [5]. Detailed information and a letter that will tell you about the working structure of the project will soon be with you, I want to go forward by digesting it step by step.
It's quite flattering to be close to an app that can help people or even touch their lives. For this reason, let's run on behalf of artificial intelligence for health and technology for health from today by informing you that it is not too late for anything 💪🏻
In recent days, I have come across many academic publications and articles that I have reviewed during my master's degree. If you are as interested in machine learning, image processing, and artificial intelligence as I am, my biggest suggestion is to read it! Be sure to give yourself the opportunity to review every publication. Because maybe a project that you found but didn't implement has been implemented. Always try to get above the work is done! Don't be afraid! If he or she did it, you can do it. And I regret to say that we are consumers, not producers, in the use of technology. Maybe we're scared or cold. But we must work without stopping and intimidating. I developed a health app, and from that day on, nothing was the same. I've had the opportunity to meet so many people. And the only goal I would strongly recommend to you is to work. If you want, let's move on to artificial intelligence in the field of health without deviating too much from our topic.
An Overview Of Artificial Intelligence Studies
Let's take a look at one of the very common studies, shall we? Detecting tumors in the brain by studying based on deep learning is one of the studies that we often encounter [6]. CNN architecture, which is very common when it comes to the image, is with us again. Watershed segmentation and morphological processing algorithms were used on MR images from image processing techniques that we usually do very often [6]. Moreover, this project is one of the millions of health applications!
In fact, my goal was to show you that machines can also produce these difficult diagnoses that doctors make in the least time and with accurate results. I tried to provide a detailed pre-processing for you by pouring another health project that I realized earlier into a blog post. If you want, you can learn by examining it here. Have a healthy day ✨
REFERENCES
[1] From Wikipedia, The free encyclopedia, September 2020, Artificial Intelligence in Healthcare.
[2] Coiera E (1997), Guide to medical informatics, the Internet and telemedicine, Chapman & Hall, Ltd.
[3] Kent J, August 2018, "Providers Embrace Predictive Analytics for Clinical, Financial Benefits", HealthITAnalytics. Retrieved 2019-01-16.
[4] https://www.haberler.com/facipa-isimli-mobil-uygulamasi-odul-aldi-11997790-haberi/.
[5] https://www.youtube.com/watch?v=pjN09B0i29Y.
[6] Ali ARI, Davut HANBAY, TÜBİTAK, Department of Computer Engineering, Faculty of Engineering, Inonu University, Deep learning-based brain tumor classification and detection system.

[7] https://www.healthcareitnews.com/news/what-hospitals-should-consider-when-choosing-ai-tools.